NiMet seeks synergy to reduce disaster risks
To lessen the risks that are associated with weather-related crises in Nigeria; all the relevant bodies responsible for the management of disasters must work together.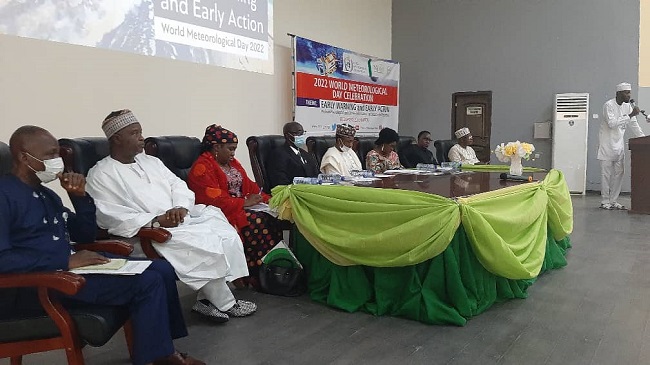 The synergy, according to the director-general and chief executive officer of the Nigerian Meteorological Agency (NiMet), Professor Mansur Matazu, will assist and help enhance national prevention, preparedness, and response strategies.
Canvassing for this synergy on Wednesday, March 23, 2022, in Abuja to mark this year's World Meteorological Day, Matazu cited the adoption of the co-production techniques in the Seasonal Climate Prediction (SCP) of NiMet to buttress his point on best practice which has over the years served as a multi-stakeholders early warning tool.
Aside from the SCP, the DG/CEO revealed that his agency has an array of other products and services which are also included in the catalogue of early warning tools.
"However," he cautioned, "these are perishable and must be utilised on time.
Therefore, he urged members of the public to rise, take NiMet forecast and respond with appropriate actions for resilience, adaptation, as well as mitigation to minimise consequences of disasters on livelihood sources.
In the last year, the chief weatherman of the nation explained that his establishment has decided not only to wait for a buy-in of stakeholders but also to improve on their infrastructure and creatively disseminate information to as many Nigerians as possible.
He hinted that the 2022 SCP did not just present the forecast as usual, but it was done with concerted effort and its content translated into the three major local languages namely Igbo, Hausa, and Yoruba for policymakers.
One of the highlights of 2021, he observed, was the passage of the Repealed NiMet Bill. "This Bill," he informed, "will improve our operations and add regulatory framework for the agency for effective weather and climate services for sustainable socio-economic development in the country."
Also speaking at the event, the agency's director of Weather Forecasting Services,.Mailadi Misau told the participants that the theme of this year's celebration "Early Warning and Early Action – Hydrometeorological and Climate Information for Disaster Risk Reduction," was carefully chosen to spread awareness about the behavior of the earth's atmosphere and citizen's role in protecting it.
"It is on this day that we strive to bolster awareness on the impact of meteorology activities, from data collection, collation, archiving, analysing, production of products and advisories to support early warning for early action," he said.
He submitted by assuring that NiMet would continue to upgrade and modernise its operations to meet public expectations on weather and climate information to ensure that they have all the advisories and early warning tools available for proper decision making.
source environewsnigeria